Hey everyone! My name is Courtney and I have wanted to start my own book blog where I review the latest (and not so latest) YA books. For the past year now, I kept telling myself to start one and I ended up getting into some arguments with myself that I won't share with you right now because I don't want to scare anyone away. And finally , after going back and forth and back and forth again... Read Between the Books was born.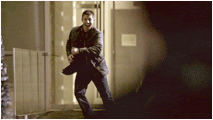 I love Supernatural gifs. Best thing ever.
I'm not quite sure what my schedule will be like yet. But I'm thinking I might update with a new review every Saturday. Next Saturday will be my first review and the book will be
Of Poseidon
by Anna Banks, so stop on over next week to see what my reactions were.
See you next week,
Courtney