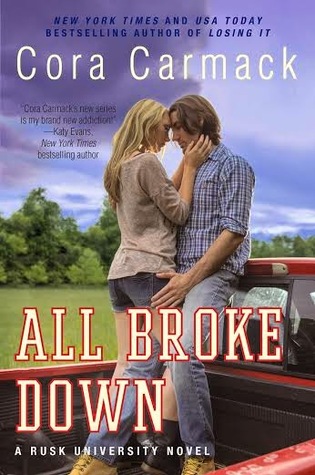 Dylan fights for lost causes. Probably because she used to be one.

Environmental issues, civil rights, corrupt corporations, and politicians you name it, she's probably been involved in a protest. When her latest cause lands her in jail overnight, she meets Silas Moore. He's in for a different kind of fighting. And though he's arrogant and infuriating, she can't help being fascinated with him. Yet another lost cause.

Football and trouble are the only things that have ever come naturally to Silas. And it's trouble that lands him in a cell next to do-gooder Dylan. He's met girls like her before fixers, he calls them, desperate to heal the damage and make him into their ideal boyfriend. But he doesn't think he's broken, and he definitely doesn't need a girlfriend trying to change him. Until, that is, his anger issues and rash decisions threaten the only thing he really cares about: his spot on the Rusk University football team. Dylan might just be the perfect girl to help.

Because Silas Moore needs some fixing after all.
My Review
I absolutely love Cora Carmack.
I love her writing style, I love her characters.
I love everything.
But
All Broke Down
wasn't my favorite by her.
I still adored it and I liked it a bit more than
All Lined Up
, but I just can't quite put my finger on why it didn't blow me away.
Garrick, from
Losing It
, will always be my favorite CC guy but Silas is close behind him.
Sure, he has a bit of a temper and uses violence to solve his problems but he's honestly not a bad guy.
I'm definitely not defending his actions, I actually really hate when people use violence as the be all end all to a problem, but you saw a different side to him with Dylan and you could gradually see him trying to be a better person and sort out his issues.
That is definitely commendable.
Dylan, on the other hand, didn't really win me over.
Not until we got to meet her parents and if you've read this book then you probably understand why.
Dylan is this goodie two shoes kind of girl and wants to fix everything and everyone and puts her nose in places where it doesn't belong.
And that really bugs me because she just doesn't know when to butt out.
I hate people like that.
But once we read more about her background and met her parents I finally understood her actions a bit more and finally got it.
And I definitely don't like her parents.
Judgey douches.
I loved that we got to see some familiar faces from
All Lined Up
.
I really did appreciate that but I would have liked a bit more of an update, I guess.
I think I'm just being greedy, though.
I did enjoy the plot but it was a bit bland and a few of the smaller storylines didn't really get completed.
I just wanted more and was a bit disappointed about that.
I think I might just be getting a little tired of the whole "boy and girl use each other to sort out their issues only to fall in love later on" trope.
Eh.
Other than a few complaints, I really did enjoy
All Broke Down
.
It's a solid book and a great addition to any Cora Carmack fans' bookcase.
If you would like to purchase any of these books, please think about using my Book Depository affiliate link. I'm currently unemployed and truly appreciate anything I can get.